Business Cards Perth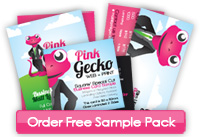 For awesome  business cards in Perth, it's Pink Gecko for design and print!
We have a variety of cost effective business cards for Perth businesses which can be delivered anywhere in Australia.
We can design your business cards or you can use a template to design your own business cards with Adobe programs.
Delivery time for Perth business cards is anywhere from 5 – 10 days depending on which business cards you like, when you order them, as well as varying other factors, plus a day for freight.
Our Perth Business Cards
Standard Business Cards Perth
These business cards are printed on 360gsm artboard, in full colour (CMYK) both sides and have laminating options. These business cards also have option of rounded or regular corners.
Visit Standard Business Cards Perth >>
Recycled Business Cards Perth
These business cards are printed on 300gsm 100% recycled stock, in full colour (CMYK), they are a nice business card without laminating, have square corners.
Visit Recycled Business Cards Perth >>
Plastic Business Cards Perth
Plastic business cards are printed on .4mm PVC plastic, in full colour on both sides, with rounded corners only.
Visit Plastic Business Cards Perth >>
Slim Line Business Cards Perth
These business cards are standard business cards mentioned above, but with special trimming for slim line business cards or special cut, like square. The special cut/ slim line business cards can be cut as small as 40mm.
Visit Special Cut Business Cards Perth >>
How else can we help you? 
Business cards Perth | Website Design Perth | Logo Design Perth